We would like to invite you to take part, with the School, in the 'School Ecomobility Challenge', which takes places next week from Monday 11 to Friday 15 October. Every morning during the week, your child's teacher will make a note of the type of transportation they used to come to school.
What's the goal?
To increase awareness about nicer ways (walking, cycling, using scooters, public transport, carsharing, etc.) to travel to and from school;
To increase awareness about the beneficial effects of these alternatives for our health and for the environment;
To reduce, throughout this 'ecomobility' week, the amount of car traffic around the School;
To make getting to school safer for pupils and parents.
How?
By traveling to School by a means other than the personal car. Doing so just on one day in the week would make a real contribution to meeting this Challenge!
Where and when?
Several routes/dates setting off from the following locations:
Saint Vincent Church in Marcq-en-Barœul by bike on Monday 11,
Tuesday 12, Thursday 14 and Friday 15 October
Saint Maurice Pellevoisin by bike on Friday 15 October
Quesnoy-sur-Deûle by bike on Tuesday 12, and Friday 15 October
You can see the detail of the proposed routes in the attached document.
And you can create your own route if you wish with other families (and don't forget Cmabulle might help you to do so).
With whom?
TFull details of the routes are available on the forum.
You can help us meet this Challenge!
Parents remain responsible for their children.And last but not least, don't forget to wear a yellow vest and a helmet!
For those of us who do not have a child or adult safety vest, the PA is selling EELM-customized neon vests for 9 euros each.
Child and adult sizes available!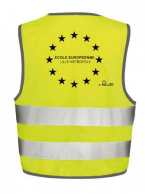 This will allow as many people as possible to be visible, and thus make our journeys and the area around the school safer.
Delivery scheduled the week of 11 October.
Interested ? Flash the below QR code for ordering !
https://www.payassociation.fr/ape-eelm/gilet-de-securite-ape-eelm